Community Giving
Using the expansive G101 area at the Northland Arboretum as its home base, Community Giving is a multi-faceted project that is making a real impact in Crow Wing County. With food security and education as its main objective, over half of the Crow Wing County Master Gardener Volunteers are involved in one or more components of this project, including:
• The Bedding Plant Project: Beginning in February, volunteers start carefully chosen, long-season vegetable varieties. In 2022, over 400 plants were started.
• Patio Garden project: An initiative to get those without access to green space to grow their own food, volunteers use started plants and lettuce to make edible planters. 172 balcony-size gardens were distributed to citizens in 2022.
• Youth and Adult Gardening 101 Classes: Weekly educational gardening classes, where participants learn all about growing their own vegetables and get to bring home all that they sow! In 2022, 14 youths and 17 adults attended.
• Giving Gardens: Volunteers grow food and work closely with area food shelves to distribute fresh herbs, vegetables, and even some fruit to those in our communities who need it the most. In 2022, over 2,400 pounds of food were distributed.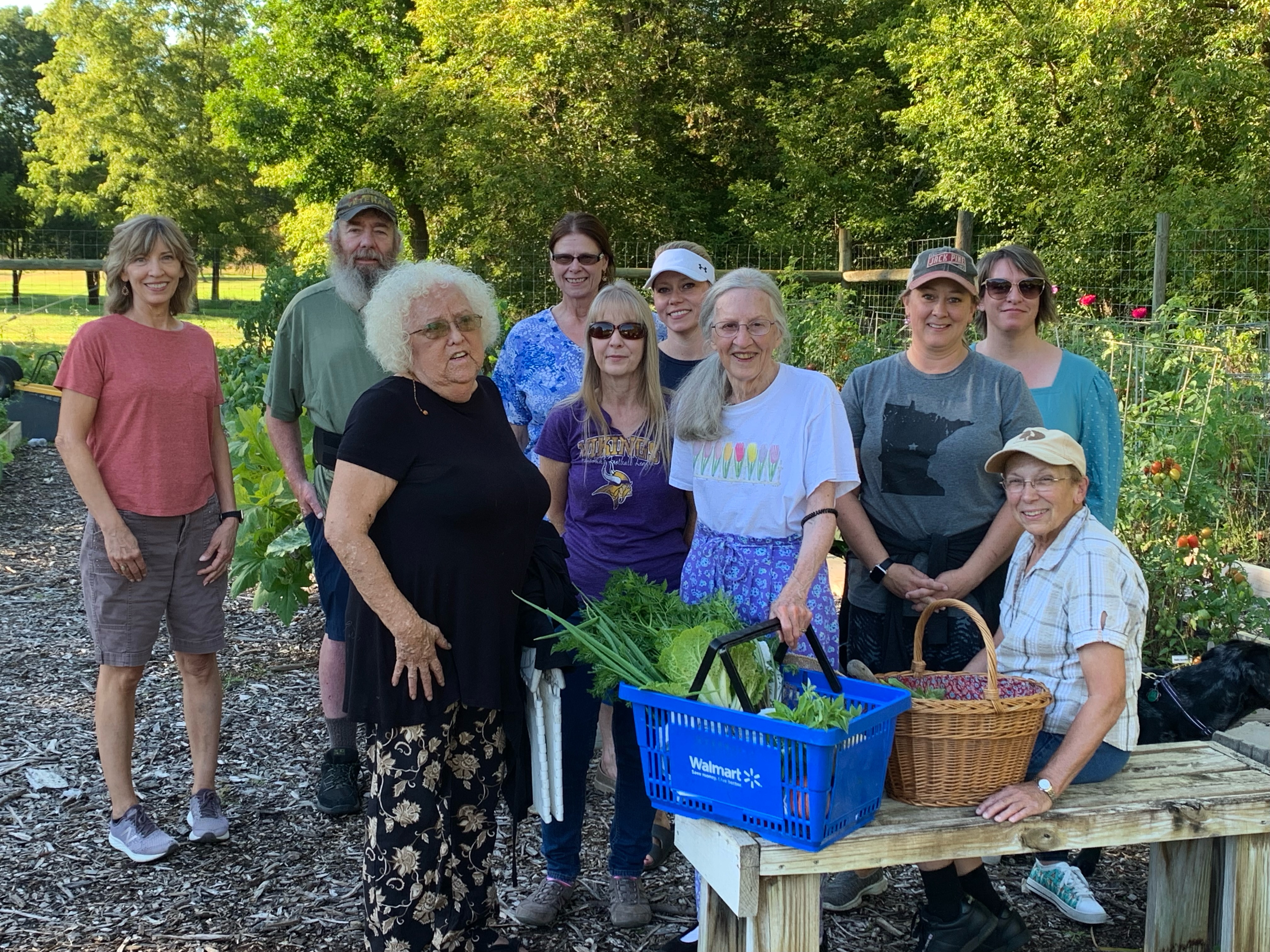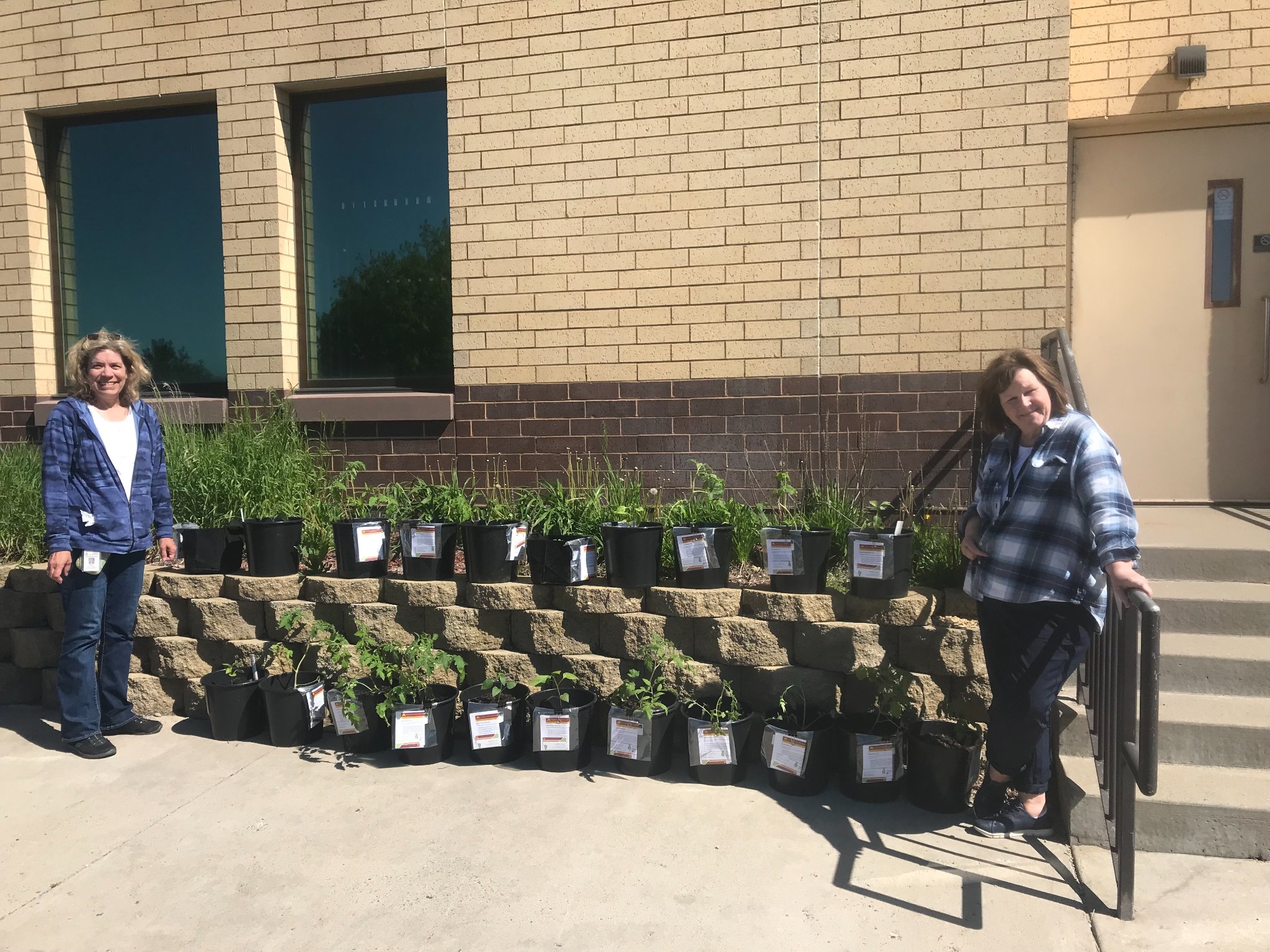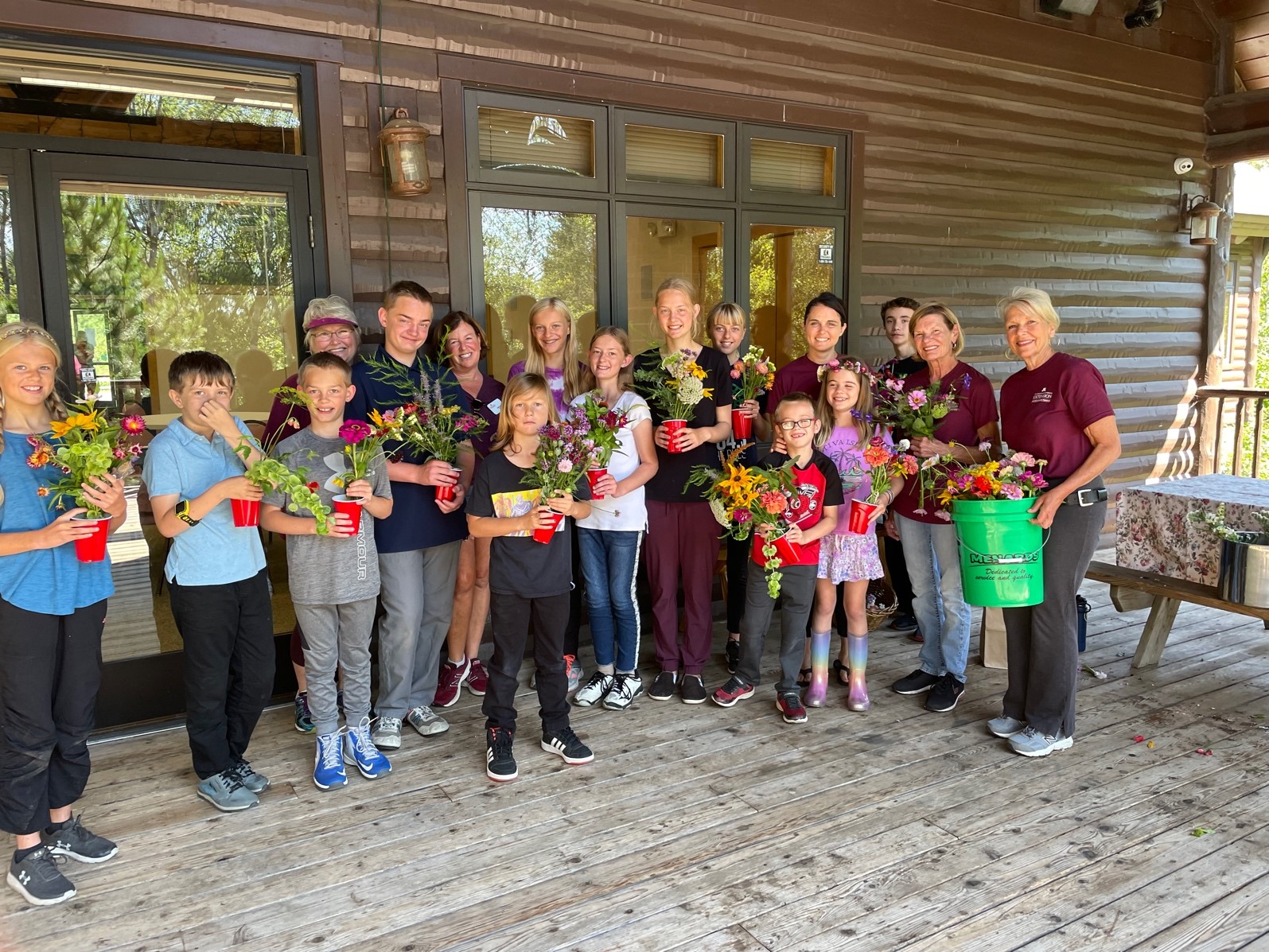 ---
Ideal Corners Giving Garden
Crow Wing Master Gardener Volunteers were thrilled to expand their Giving Gardens locations in 2022 to include a garden behind the Ideal Green Market Co-Op. Spearheaded by Master Gardener Volunteer Intern Geoff Davidge, volunteers grew over 200 pounds of fresh produce, herbs, and flowers that they donated to area food shelves. This poundage contributed to the over 2,400 pounds donated by Master Gardeners in Crow Wing in 2022 from Giving Gardens located county-wide, including volunteers' personal gardens, the G101 area at the Northland Arboretum, and Timberwood Church.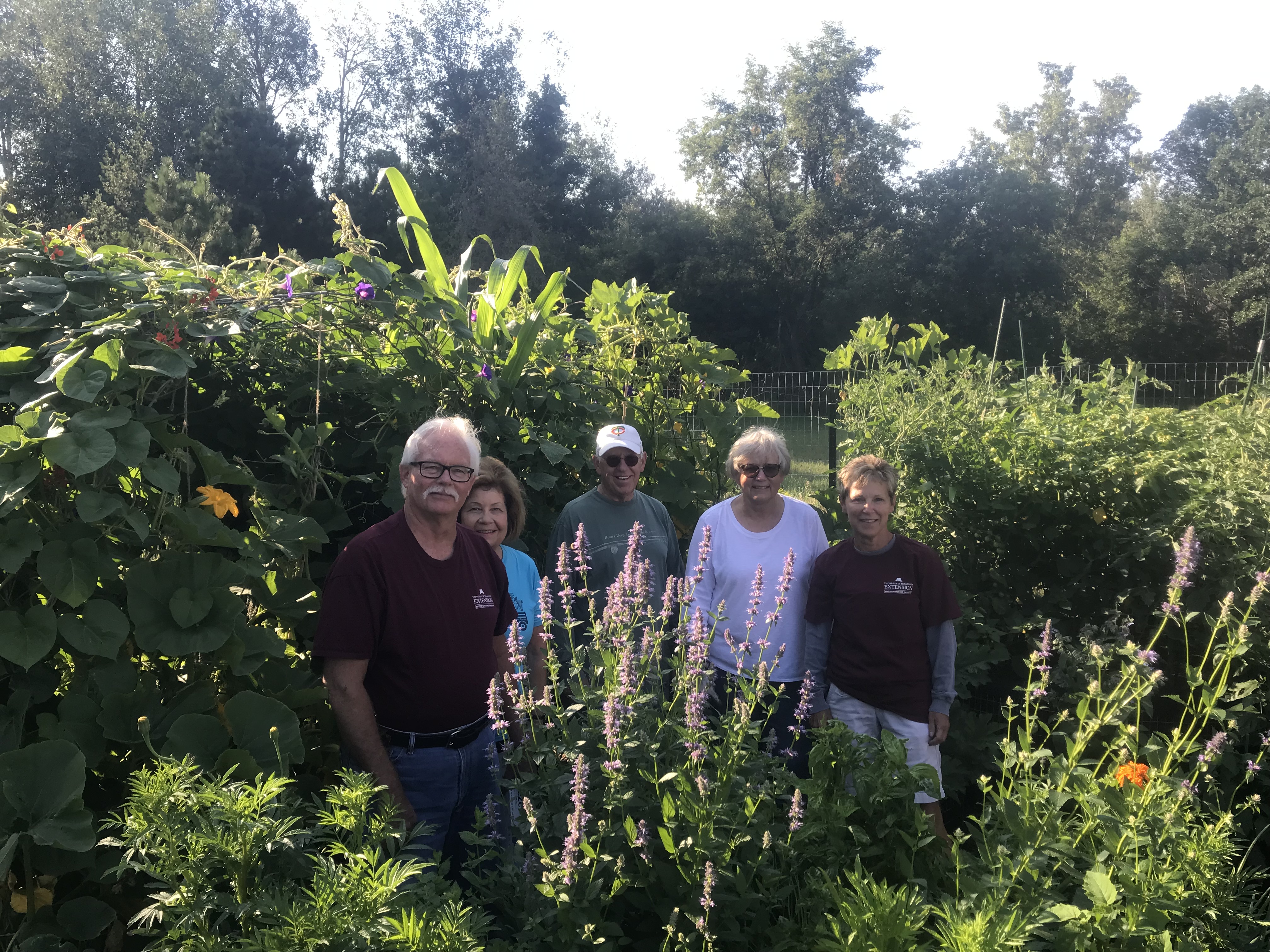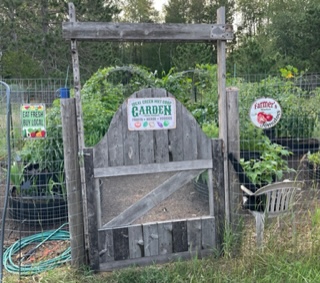 ---
Memorial Garden Renovation
What a transformation! A dedicated team of Master Gardener Volunteers completed a real overhaul of the Memorial Garden at the Northland Arboretum this past summer. From dividing plants, to weeding, taking out old landscape fabric, and adding mulch and new plants, this group did it all!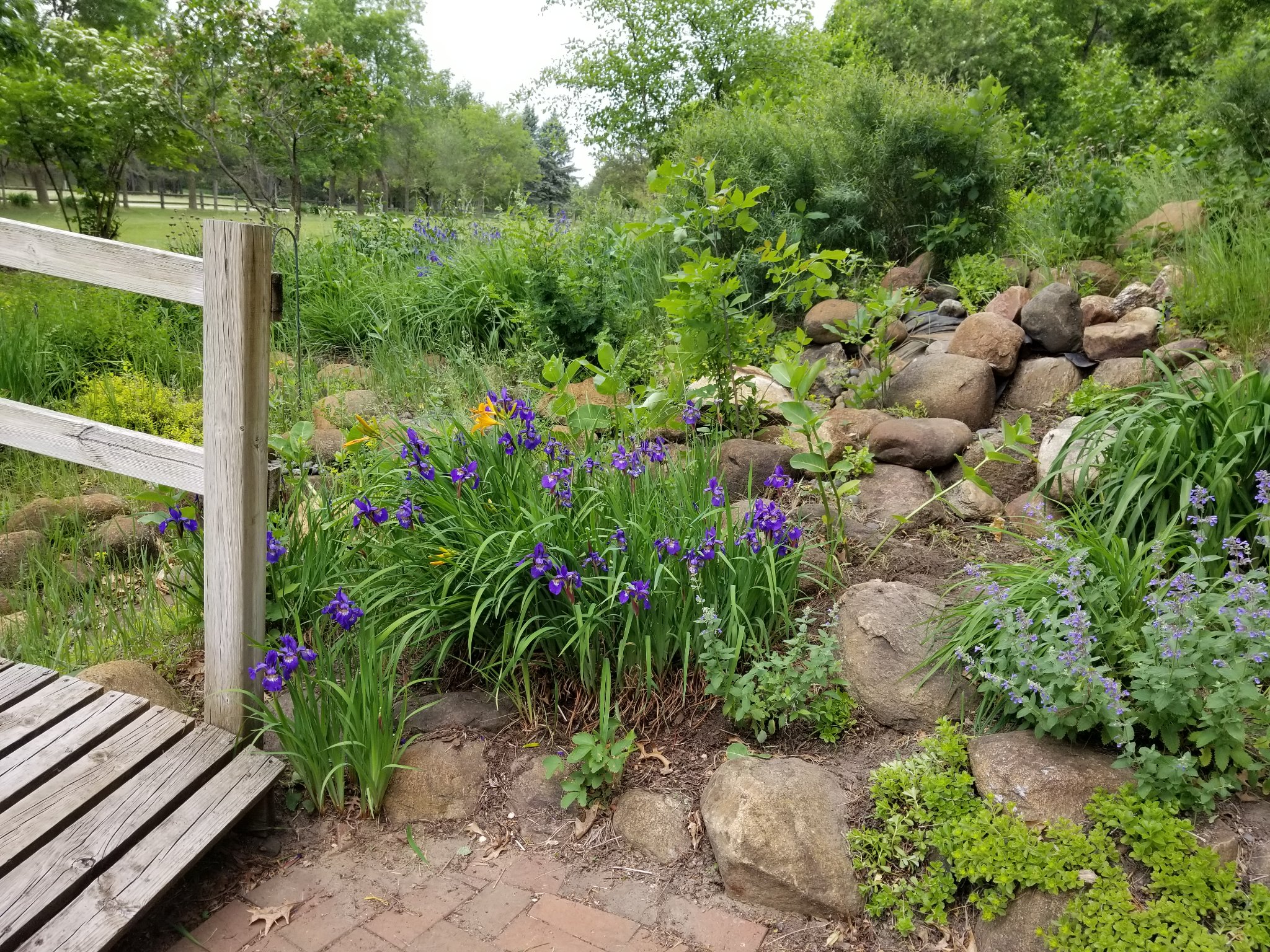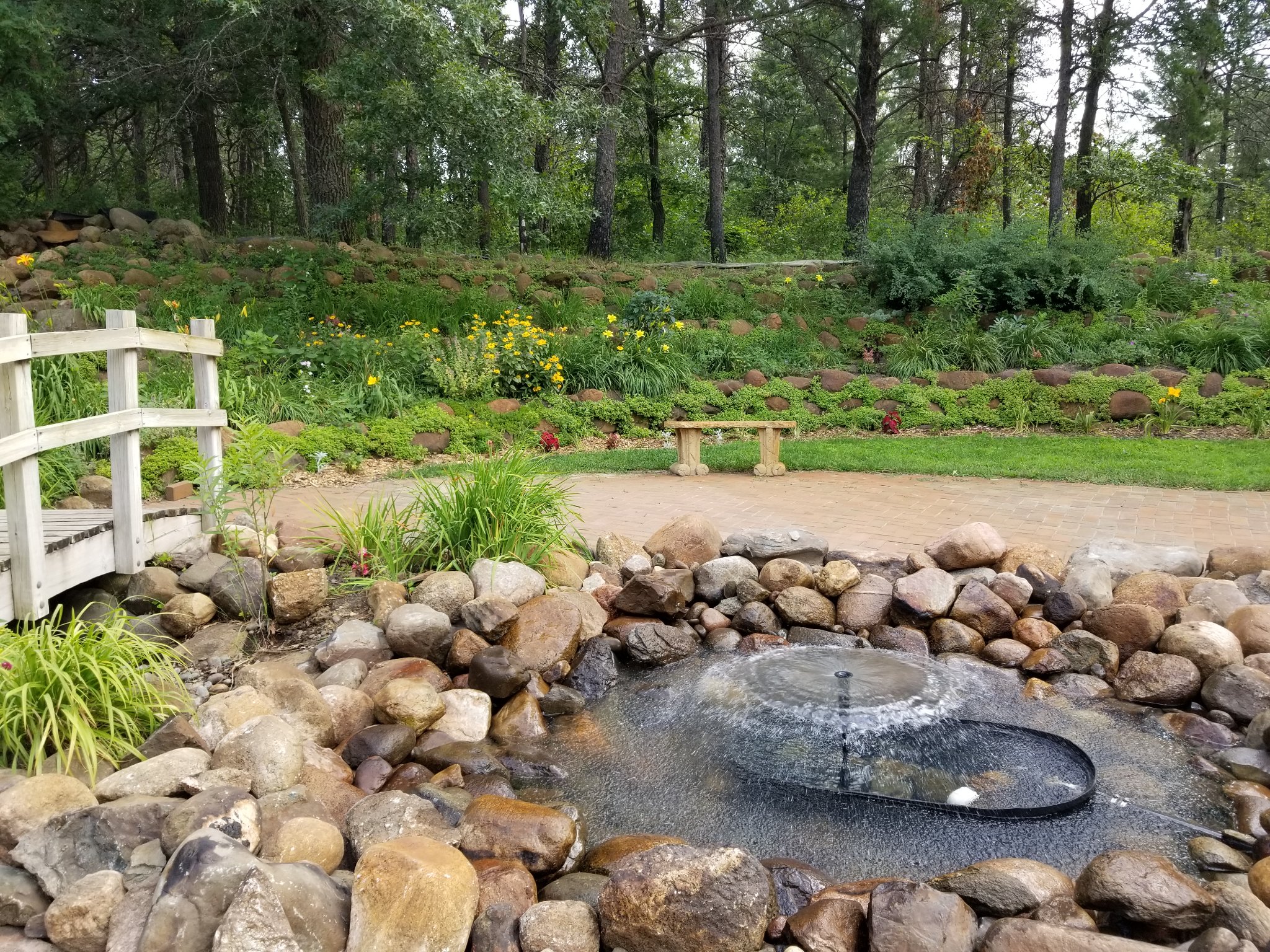 ---
U of M Extension Master Gardener Volunteers at Crow Wing County Fair
U of M Extension Crow Wing County Master Gardener Volunteers staff the "Ask a Master Gardener" booth located in the Horticulture Building at the Crow Wing County Fair.
The information booth provides up-to-date, research-based information on many horticulture-related topics such as flower, vegetable gardening, wildlife management, diseased plant material diagnosis. Information about the Master Gardener Program and how to become a certified program member is also available. To find us, look for the white pergola in the center area of the building.
For more information about the informational booth, Crow Wing Master Gardeners at (218) 824-1068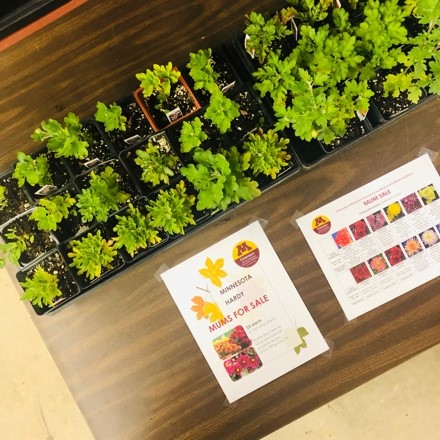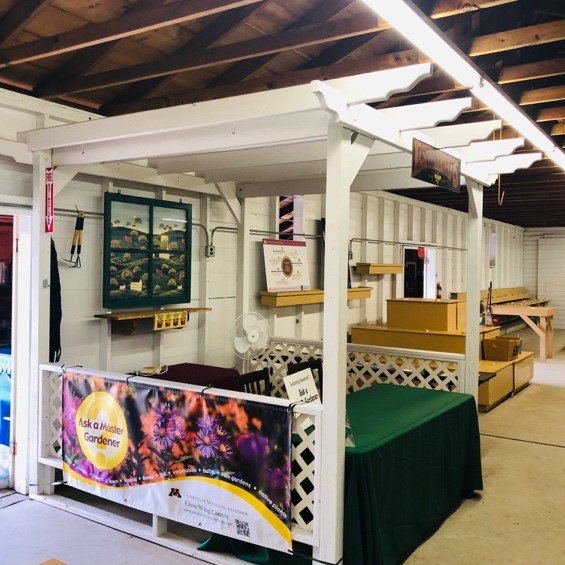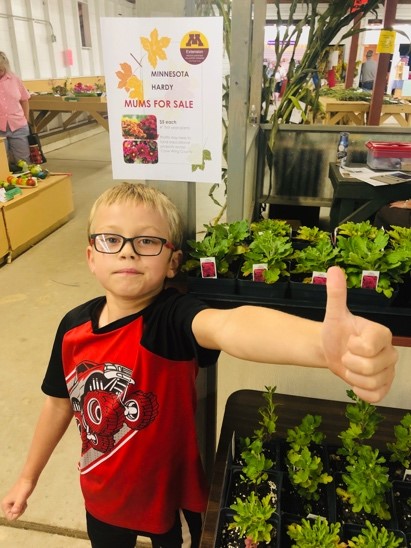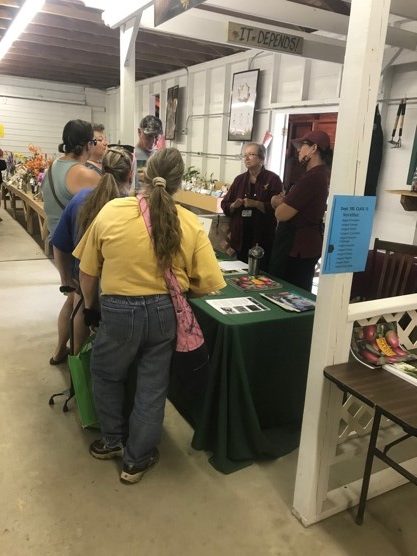 ---
Writing Gardening Columns and Articles
For many years, there has been a gardening column written by a Master Gardener in the bi-monthly magazine Lake Country Journal. The column "Through the Garden Gate" covered many different aspects of horticulture. Since 2008, Master Gardeners have contributed to a column in the Brainerd Dispatch. Due to the tremendous interest in gardening during the 2020 Covid pandemic what started as a monthly column, has evolved into a weekly column. The column includes answers to many horticulturally related questions as well as timely gardening tips. Questions for the column may be sent to [email protected]
Master Gardeners also contribute articles to other groups' publications such as ArbLife and lake association newsletters.
---
Downtown Brainerd Planters
Crow Wing County was happy to have "Visit Brainerd" staffer Holly Holm join the program in 2021. Holly has utilized her connections downtown and is currently working on promoting some nearby nature in the city by keeping the planters weeded and looking good!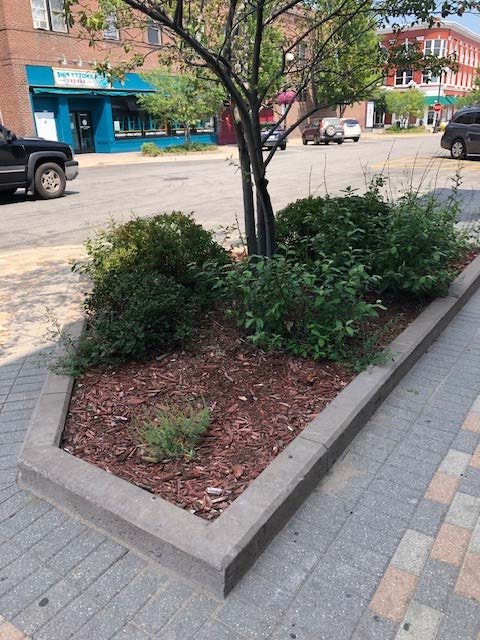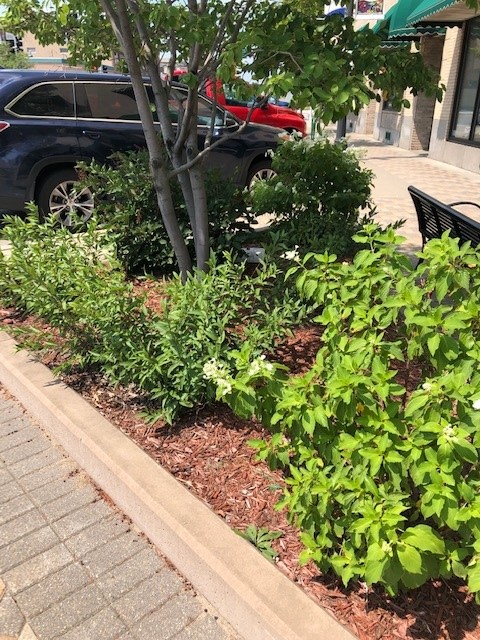 ---
Central MN Adult & Teen Challenge
Sustainable Garden
Since 2014, Crow Wing County Master Gardener volunteers have collaborated with Central Minnesota Adult and Teen Challenge staff and guests to establish and maintain a healing outdoor area. This space includes raised vegetable gardens, an orchard, and pollinator gardens. The mission of this ongoing project is to harness the healing power of nature, provide educational opportunities, and promote access to healthy, local food.
Monarch Waystation
The Crow Wing County Master Gardeners recently completed a Monarch Waystation at Central Minnesota Adult & Teen Challenge. The design and plant list were developed by University of Minnesota Extension Master Gardeners in 2020 with all 65 plants donated by Master Gardeners. Clients of Teen Challenge provided the muscle, and the project was completed in a busy couple of hours one afternoon. Now all we need is for the Monarchs to return in the spring and the plants to bloom again!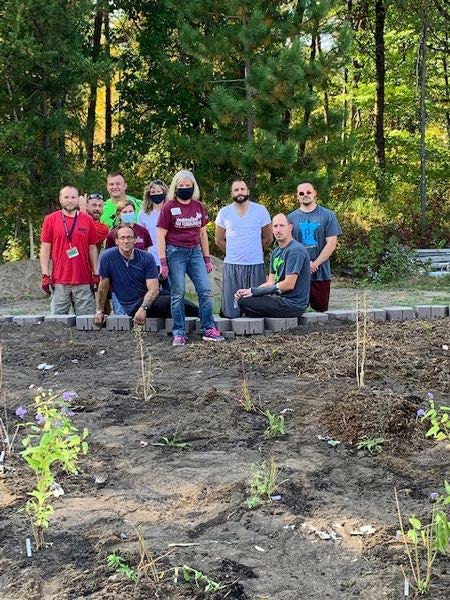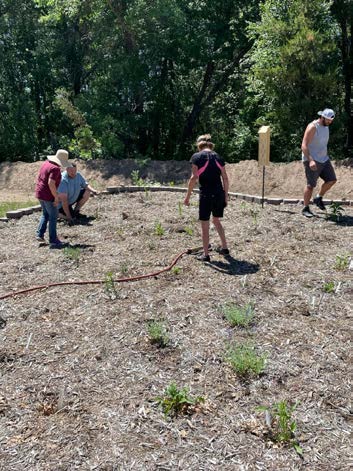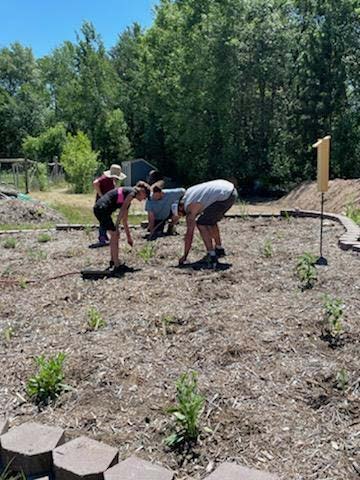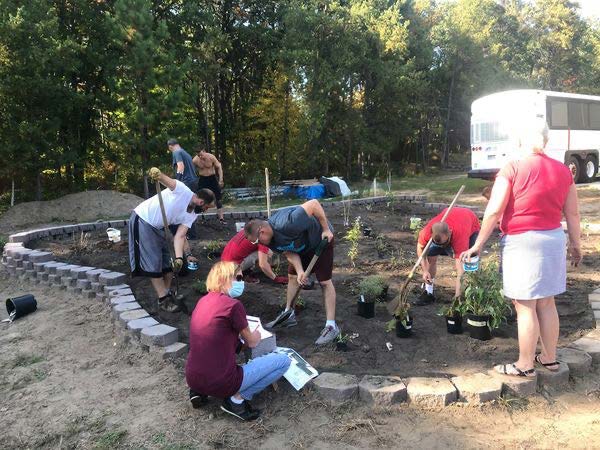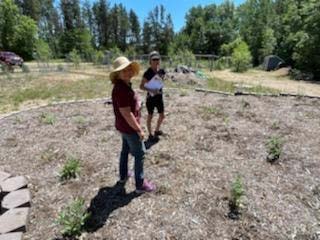 ---
Rain Garden at the Northland Arboretum in Brainerd
A demonstration rain garden was installed in conjunction with a Rain Garden Workshop in June of 2007 at the Northland Arboretum. In 2017 a significant renovation was constructed with the following objectives:
• Showcase native and cultivar plants with creation of14 different garden groups of perennials and shrubs.
• Educate the public on the importance of native plant varieties through the use of pollinator friendly plants, labeled for visitor convenience.
• Reduce the work for the garden volunteers through low maintenance plants and hardscape.
• Improve the visual appeal of the garden by selecting plants through various bloom times and colors.
The renovation also included installation of a retaining wall, pathways, pergola, and benches, allowing visitors to walk, pause and relax with nature. Master Gardener volunteers continue to play an active role in making this space an oasis for all Arb visitors.
The rain garden project was made possible by volunteers from Crow Wing County Master Gardeners, MN Master Naturalists, Brainerd Garden Club, Northland Arboretum staff, Boy Scouts of America, and Warrior Day of Service Group. Financial assistance was provided by project committee members and Crow Wing County Master Gardeners. The Brainerd Garden Club provided plants.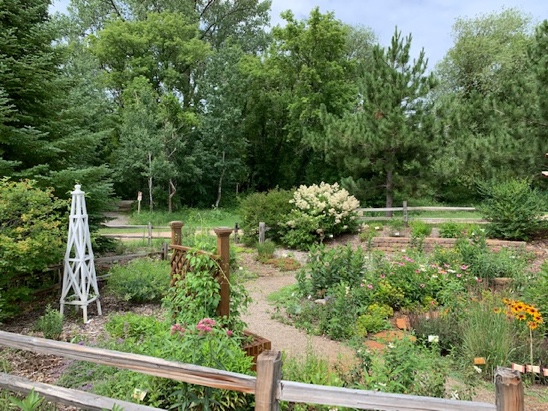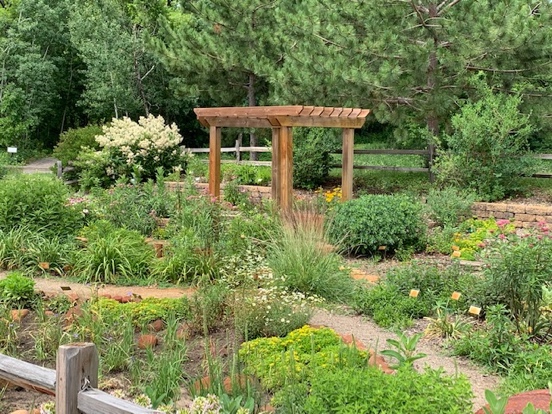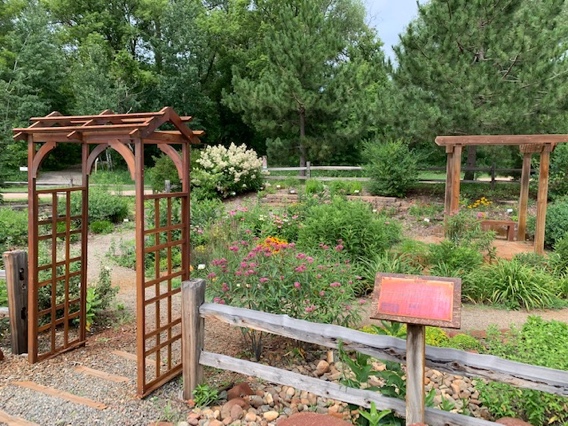 ---
Gazebo Garden at the Northland Arboretum in Brainerd
When visiting the Arb, don't forget to wander up to the Gazebo Garden. This excellent example of a shade garden is maintained by Master Gardener volunteers. In 2021 forty new plant labels were added so visitors can add cultivars they spot to their own landscape.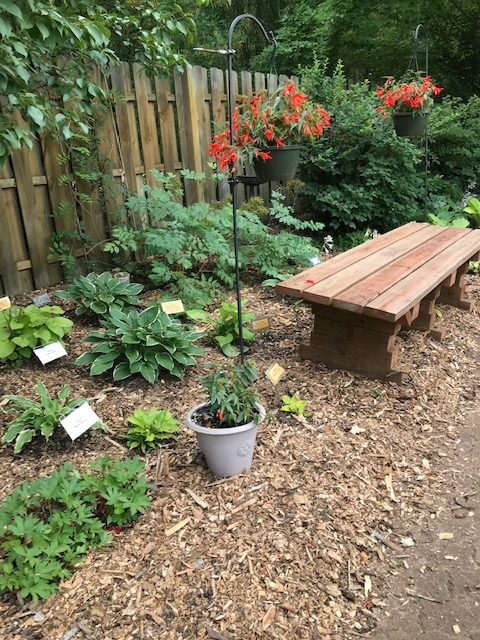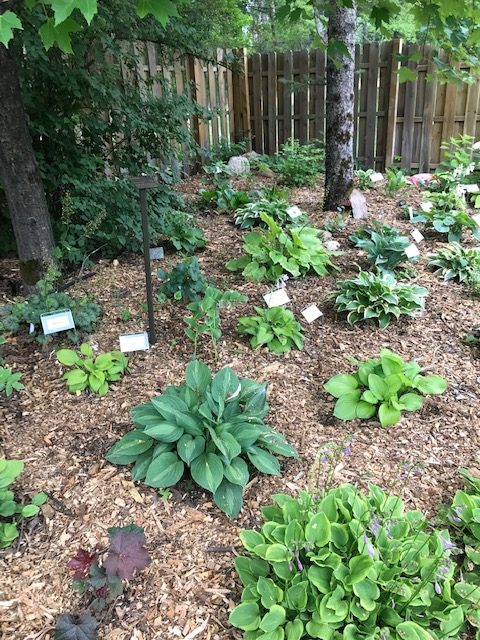 ---
Gregory Park Fountain Garden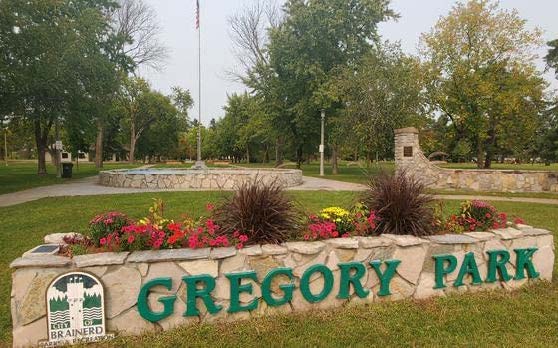 Since 2007, a Master Gardener, in coordination with Brainerd Park & Recreation, adopted the bench planters in Gregory Park. Through the years a wide assortment of annual flowers continue to be added to beautify the park.
In 2008 the big planter at the park's entrance was reconstructed to match the fountain and provide an example of raised bed planting techniques. Pollinator-friendly plants have been incorporated into the garden.
While the wooden benches were removed in 2019, the fountain planter continues to provide an impressive entrance to Gregory Park while offering visitors a place to enjoy nature's beauty.
Through the years support has been provided by Jackie Burkey, the John Turcotte family, City of Brainerd, Minnesota Green, and the Brainerd Garden Club.
---
Gardening Presentations at Good Samaritan – Woodland Campus
Beginning in 2011, Master Gardeners partnered with the Good Samaritan Society to facilitate monthly gardening classes at their Woodland Campus in Brainerd.
Crow Wing County Master Gardeners also assist in the Good Samaritan Community Garden based on the Woodland campus. Good Samaritan residents can choose their raised bed and be matched up with a partner to help take care of it and harvest the veggies. Any extra harvested vegetables and flowers can be used in the Good Samaritan Dietary Departments and served at mealtimes.
If you are interested in volunteering or want more information about this community garden, contact Woodland Campus at 218-829-1429.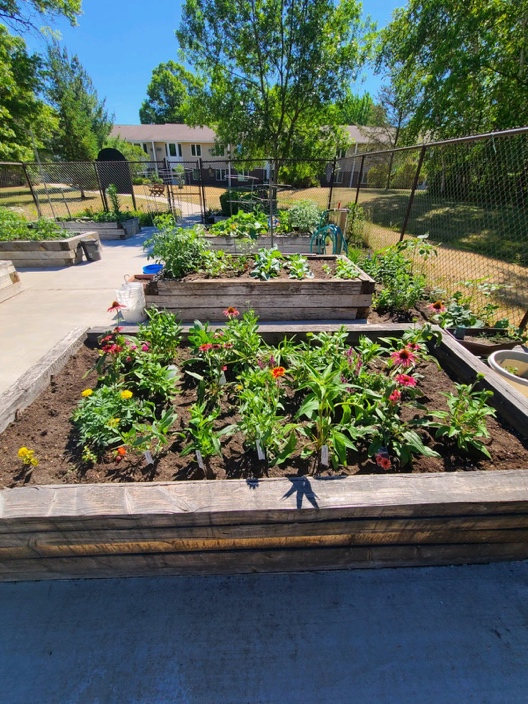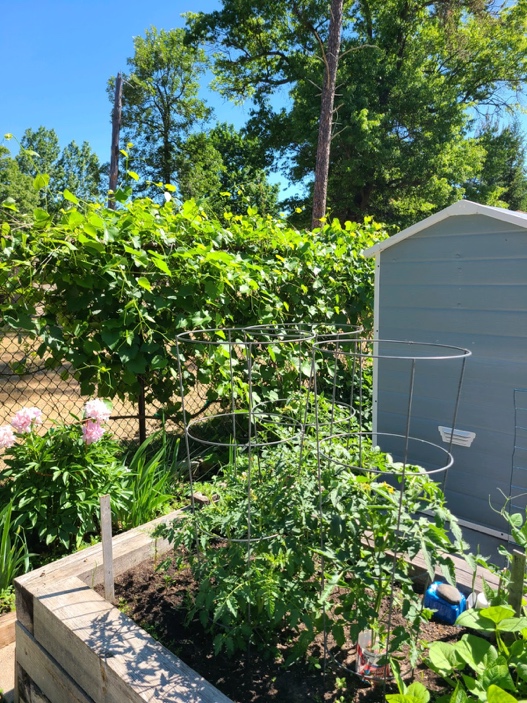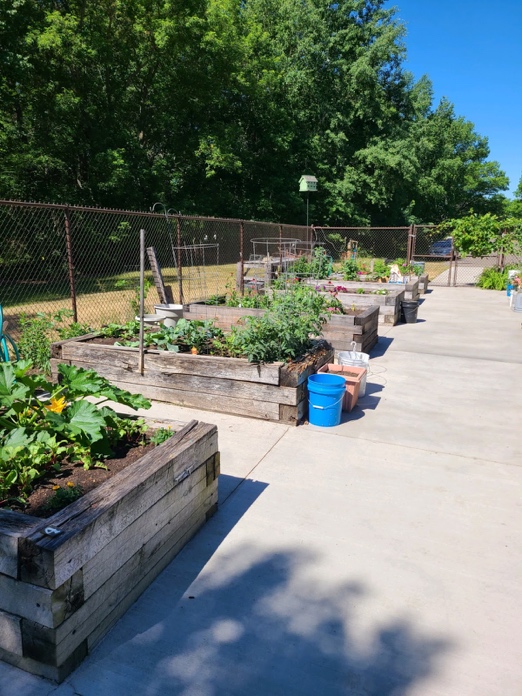 ---
Pelican Woods Cemetery and Nature Trail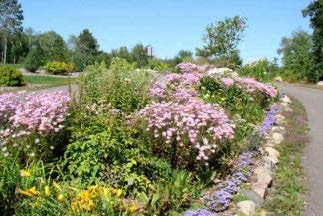 Pelican Woods Cemetery is all about nature. Since 1999 the Crow Wing County Master Gardeners have worked with the City of Breezy Point and the Cemetery Commission to ensure the trail around the perimeter of the property is a good way for visitors to breathe deep and relax. The Trail Stations have been designed to enhance the natural beauty of this unique setting; visitors find familiar and unfamiliar trees, flowers and greenery which grow well in Northern Minnesota's harsh climate.
---
Gardening 101/G101
Crow Wing Master Gardeners guide new gardeners in basic vegetable, fruit, and native wildflower growing at the Northland Arboretum's 'Gardening 101' Gardens. Participants attend sessions from early June through August, with classroom instruction and hands-on gardening. The course expanded in 2019 to include a Veteran's and Adult series.
In 2019 the size of the gardens expanded to include of a back garden for additional youth, veteran's and adult attendees, and a plant propagation space for both the Brainerd Garden Club and the Northland Arboretum. The expansion was created with financial support from the Northland Arboretum Board of Directors, Northland Arboretum Grounds and Trails Committee, Mid-Minnesota Credit Union, Crow Wing Energized Healthy Living, U of M Extension Master Gardeners in Crow Wing County, Northland Arboretum members and staff. Construction was completed by volunteers from Minnesota Adult and Teen Challenge, U of M Extension Master Gardeners, Arboretum staff and families, and Northland Arboretum members. A special thank you to Erickson's Greenhouse of Brainerd, Wild Bird Store Little Farm Market, Crow Wing County Master Gardeners, and Northland Arboretum members for plants and seeds.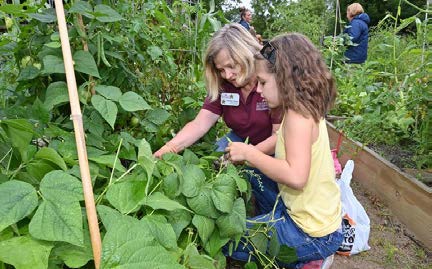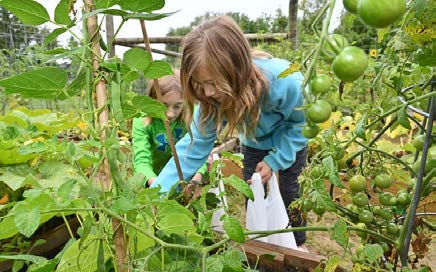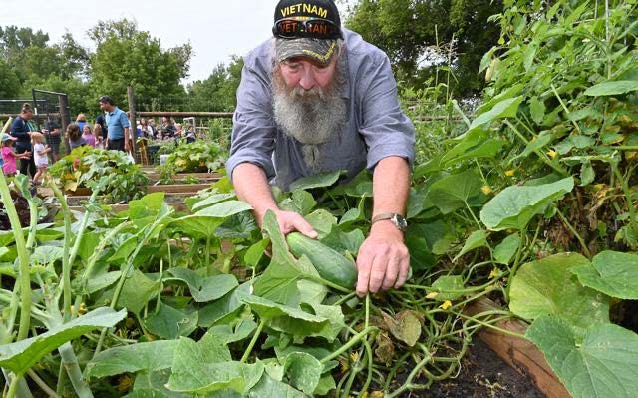 Photo credit: Steve Kohls/Brainerd Dispatch
---
Ecological Restorations
Master Gardeners are helping to protect and restore many bodies of water by assisting with the planting of shoreland buffers and rain gardens.
A shoreland buffer is a simple and direct method of protecting a lake by preserving or restoring a buffer of native vegetation along the shoreline. These buffers slow down and infiltrate the runoff that otherwise might be going straight into the lake.
A rain garden is a shallow depression on the landscape where planted native plants will promote the infiltration of runoff coming from other areas of the landscape. Contrary to shoreland buffers along lakeshores, rain gardens can be planted at properties all throughout the county.
Past projects include the rain garden and Serpent Lake shoreland restoration project in Crosby, shoreland buffer at the Elks Camp on Pelican Lake and the rain garden at Fairview Office Park in Baxter.