Educational
One of the missions of the Master Gardener Program is to support U of M Extension by providing trained volunteers to educate the public with research-based information on the best practices in consumer-related horticulture and environmental stewardship.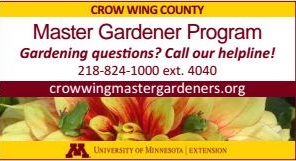 Crow Wing County Master Gardeners respond to phoned questions year around. Recorded horticulture-related questions are answered within 2-3 days of their receipt.
Joint 'Gardening 101' Youth Garden Project
Crow Wing Master Gardeners guide young gardeners in basic vegetable, fruit, and native wildflower growing at the Northland Arboretum's 'Gardening 101' Youth Garden. Youths participate in sessions June through August, with classroom MG instruction and hands on gardening, which of course includes weeding! The youth are quite proud of their gardening abilities and early success!
Ready, Set, Grow! Garden EXPO
The Ready, Set, Grow! Garden EXPO is a one-day event open to the public by registration through the Brainerd Community Education. This event provides educational presentations, vendors, exhibitors, light breakfast and lunch all for a very affordable fee. The surveys completed and turned in are always about 99% extremely favorable towards our efforts.
Lakes Area Community Garden in Brainerd
The Lakes Area Community Garden located near Kiwanis Park in Brainerd was established in 2011 but the process of making this project a reality, like so many other projects, started a couple of years earlier. In 2009, a Blandin Leadership Conference was held and one common idea mentioned by several in attendance was establishing a community garden for the Brainerd area. Additional team members were "recruited"; Crow Wing County Extension and U of M Extension Crow Wing County Master Gardeners and a new community garden was established.
Also new relationships among community organizations were created; Lakes Area Senior Activity Center, Brainerd Noon Rotary, Brainerd Area Sertoma, Crow Wing County Extension, UMN Extension Crow Wing County Master Gardeners, Brainerd FFA Alumni, the City of Brainerd and the Brainerd Parks and Recreation Department.
Gardening Presentations at Good Samaritan – Woodland Campus
Beginning in 2011, Master Gardeners partnered with the Good Samaritan Society to facilitate monthly gardening classes at their Woodland Campus in Brainerd.
Also in 2011, the Good Samaritan Community Garden based on the Woodland campus was planted! Good Samaritan residents can choose their raised bed and be matched up with a partner to help take care of it and harvest the veggies. Any extra harvested vegetables and flowers can be used in the Good Samaritan Dietary Departments and served at mealtime!
If you are interested in volunteering or want more information about this community garden, contact Woodland Campus at 218-829-1429.
The Center's Annual Plant Sale – "Ask a Master Gardener" Booth
As a fundraiser, The Center has an annual plant sale in May. For several years now Master Gardeners are present during the sale ready to provide answers to horticulture-related questions that area residents visiting the plant sale might have.
Nisswa Flower Show – "Ask a Master Gardener" Booth
This one-day annual event has about 500 visitors. Area residents find this event to be an excellent educational opportunity to see what can be grown in Zone 3. In addition to the booth, some local Master Gardeners also present seminars for beginning and advanced gardeners.
Crow Wing County Fair – "Ask a Master Gardener" Booth
Each year Master Gardeners staff a booth located in the Horticulture Building. Every day, fair visitors can pick up educational materials and get answers to their horticulture-related questions.
Gardening Presentations at Public Library in Brainerd
Beginning 2007 presentations in various series have been offered by a Master Gardener at the Public Library in Brainerd. Starting in 2014 the series was expanded to monthly classes. Topics have included "Perennials", "Annuals", "Ornamental Grasses" and "Planting under Trees."
Writing Gardening Columns and Articles
For many years now, there was a gardening column written by a Master Gardener printed in the bi-monthly magazine Lake Country Journal. The column "Through the Garden Gate" covered many different aspects of horticulture. In 2008, Master Gardeners also started contributing a monthly column in the Brainerd Dispatch. This column, normally printed at the beginning of the month, includes answers to many horticulture-related questions as well as timely gardening tips. Master Gardeners also contribute articles to other groups' publications such as lake associations' newsletters.